Great Magicians I had the chance to meet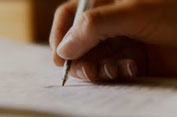 It is only very lately (January 2010), that I had the chance to meet my first magician in person. It was the French magician Bebel, giving a conference in Nivelles (Belgium). I was really impressed by his kindness and incredible dexterity.
This day, I was extremely far to realize that this would be the first, of a quite long already list of other great magicians.
Alexandra Duvivier (France)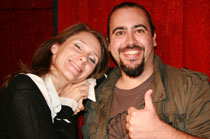 Alexandra Duvivier is a French magician born in Paris in 1973, daughter of the Famous magician Dominique Duvivier. Her talent is incredible and she's definitely not performing only with her hands, but also with her heart. She received several prices (like the "Golden Mandrake") and she has been Master of Ceremonies in many occasions, like the FISM in 2003 who took place in The Hague (Netherlands) for example.
For the story, she's been doubling the hands of Monica Bellucci manipulating cards in the famous movie "Brotherhood of the Wolf" and she's been coaching the French actress Ludivine Sagnier for the movie "Un Secret" in 2007. You can find her regularly performing in Paris at the
http://www.doublefond.com

View Alexandra Duvivier on YouTube
Bebel (France)
Bebel is a French magician specialized in Close-up. Born in 1963, his real name is Belkhéir Djénane. His dexterity is so amazing that he gains recognition from many famous magicians not only from France, but from all over the world. He currently lives in Paris where he performs magic professionally since 1982.
He also perform regularly during the summer next to the Subway "Mabillon" in Paris, and during the rest of the year, in some important cabarets.

View Bebel on YouTube
Bernard Bilis (France)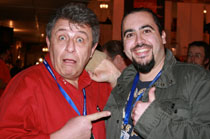 Bernard Bilis is a French magician, specialized in Close-up, and mainly cards. His father was the great comedian Teddy Bilis. He started to work in a Casino at the age of 21.
He started to perform on television in 1972, and is still regularly performing on a very popular French show called "Le Plus Grand Cabaret du Monde".
He also created a show for the park "Asterix" in France where he got his own character called "Bilix".

View Bernard Bilis on YouTube
Bob Sheets (USA)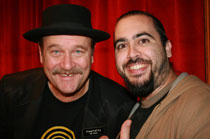 Bob Sheets is from Washington D.C. Behind Bob's humorous presentation style is experience gained from one of the most diverse work histories in Magic. Serious credentials in a variety of venues include Circus and Side Show performer, Street Magician, Bar/Restaurant Owner, Renaissance Festival performer , Magic Dinner Theater entrepreneur, Trade Show crowd stopper, and Sales Meeting wake up artist,. Bob lectures and performs for magicians all over the world including England, Denmark, Sweden, Switzerland, Italy, Australia and India. In 1996 he won first place in London at the prestigious "Ron MacMillan World Close-up Magic Contest". Together these make Bob an interesting character and a "Good magician and funny guy".

View Bob Sheets on YouTube
Claude Klingsor (Belgium)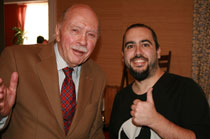 Claude Klingsor is born in 1929 in Brussels, Belgium.
Inspired in 1942 seeing a tent-show at a park fairground & learned from father's magic book. Agricultural engineer & semi-pro magician (until 1968). AFAP Master Magician. Since 1957 dealer in Brussels (Klingsor Magic Shop). 1958 Paris AFAP Grand Prix Magicus. Owning most of Kalanag's stage props, which he bought in 1967, he features a Kalanag pastiche act. Also specializes in psychokinetic effects. Full-time pro since 1968. In Paris played the Folies-Bergère & the Olympia. Collector of apparatus (Robert-Houdin's Orange Tree), etc.

No video available...
Dani Lary (France)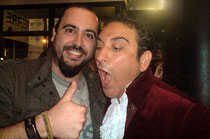 Dani lary is an great illusionist born in Algeria in 1958.
He started magic at the age of 8 and won the first price of the National Congres of Magicians in 1985. This price, was the first of many during the next years. He also participated as consultant for movies like "La fille coupée en deux" of the filmmaker Claude Chabrol.
Like Bernard Bilis, Dani Lary is performing for more than 10 years in the famous french show called "Le Plus Grand Cabaret du Monde".

View Dani Lary on YouTube
Dominique Duvivier (France)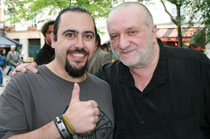 Born in 1950, Dominique Duvivier is the genius creator of tons of magic tricks. He is a Master in Close-Up and admired by many other great magicians around the world. Since 1988, he is also the owner of the
http://www.doublefond.com
, a bar in the center of Paris, entirely dedicate to Magic, where he performs sometimes. His daughter, Alexandra Duvivier, is also one of the extraordinary magician you can see performing in this place also.
Dominique Duvivier became professional in 1972, and was, at this time, one of the very rare person who manage to live from the magic.

View Dominique Duvivier on YouTube
Gaëtan Bloom (France)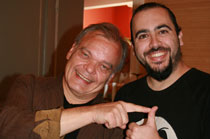 Gaëtan Bloom, is an actor and magician born in Paris in 1952.
He started his career as an actor in movies from 1969, with a special unforgettable role in the famous French movies "Les Sous-Doués" and "Les Sous-Doués en Vacances" respectively in 1980 and 1982. Gaëtan Bloom is the creator of most of his original and crazy magic tricks. One of his good friend is Juan Tamariz. Together they made very funny shows at the television by mixing laughs and magic like no one else.
In 2006, Gaëtan Bloom received the "Vision and Creativity" special price from the FISM.

View Gaëtan Bloom on YouTube
Jay Sankey (Canada)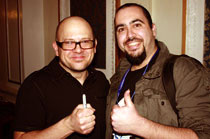 Jay Sankey is a Canadian (living in Toronto) close-up magician and creator of magic effects.
He has been an active stage performer since the mid-1980s. David Copperfield performed Sankey's trick "Airtight". Sankey also develops tricks for the "gothic" famous magician Criss Angel.
In 2007, Jay won the 3rd place in The Magic Woods Awards for Best Book with his book "Beyond Secrets". He has authored numerous books on comedy and magic and has produced/appeared in numerous instructional videos intended for magicians and other stage performers.

View Jay Sankey on YouTube
Juan Mayoral (Spain)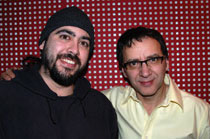 Juan Mayoral is a passionate magician who devote his entire life to magic since very child.
One of his amazing talent, is his ability to imagine and create magic tricks that are both wonderful and modern. His last creation called "Meteor" is an excellent example of the universe of Juan Mayoral. With no surprise, he participates to many shows at television, all around the world.
Juan Mayoral spent a few decades to develop some of the tricks he presents today. This is the price he paid to be so brilliant an talented today.

View Juan Mayoral on YouTube
Messenger 007 (Belgium)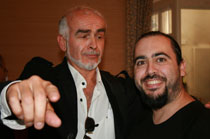 Don't be fooled ! This man is not Sean Connery... But the man (and the only official one) who doubled Sean Connery in many ads or event all around the world. So you wonder why he is part of this page ? Simply because he is also a magician !
Some people call him Messenger 007, others call him Boris Connery... I think that the best thing to do, if you want to make your own opinion about this great man is to have a look at his web page
http://www.messenger007.be

View Messenger 007 on Google Videos
Michael Ammar (USA)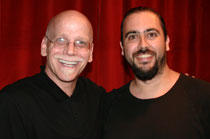 Michael Ammar is one of America's best-known close-up magicians, and is famous within the worldwide magical community. In 1977 and 1978, he captured first place awards at the Southern Coast Sleight-of-Hand Competition and won first place in the Sleight-of-Hand competition from the Society of American Magicians. In 1980, he was invited to perform at the prestigious Magic Castle in Hollywood, a performance from which came a nomination as Visiting Magician of the Year. The same year, he was nominated for Lecturer of the Year. In 1981, he won the Castle's award for Close-Up Magician of the Year. Word was getting out; Michael Ammar was a superstar on the rise. Michael Ammar won many other prices during all these years. The last one is the Distinguished Alumni Award from West Virginia University in 2003.

View Michael Ammar on YouTube
R. Paul Wilson (Scotland)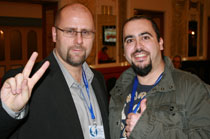 Ronald Paul Wilson (born in Akrotiri, Cyprus and raised in Singapore and Scotland) is an impressive close-up magician, and television presenter. He lives and works between London, Los Angeles, and his home in Scotland.
Wilson has worked on projects with Sylvester Stallone, Stuart Townsend, Jamie Foxx, Gabriel Byrne, Thandie Newton, Bo Hopkins, Ben Affleck, Ryan Reynolds, Ray Liotta, Alicia Keys, Andy García, Jason Bateman, and Jeremy Piven. He also advised Criss Angel on his television show "Mindfreak".
Wilson is currently a writer and presenter on the BBC's "The Real Hustle".

View Paul Wilson on YouTube
Shawn Farquhar (Canada)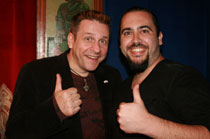 Shawn Farquhar (born in 1962 in Canada) is a magician who holds the current title "Grand Prix World Champion of Magic" from the Federation International Society of Magicians. His awards include being the only magician in history to win First Place at the International Brotherhood of Magicians (IBM) for both Stage and Sleight of Hand !
In August 2009 he won magic's most prestigious prize at the FISM World Championship of Magic in Beijing.
Farquhar has appeared on stages all over the world, including the Riveria, Las Vegas, Opera House, Blackpool and Orpheum, Vancouver . He has performed for Queen Elizabeth II and has traveled to Bermuda at the request of Princess Anne of Great Britain.

View Shawn Farquhar on YouTube
Wayne Houchin (USA)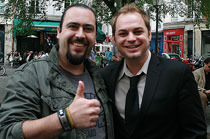 No doubt about it, Wayne Houchin has made a large hand print within the magic community. His unique combination of creativity, presentation, and production has made him one of the most talked about visionaries among magicians world-wide.
In 2003, an underground tape of Wayne's original work found its way into the hands of Banachek, one of the world's foremost mentalists. Banachek immediately befriended Wayne, which led to him being brought on board as a consultant for the acclaimed television series Criss Angel: Mindfreak.

View Wayne Houchin on YouTube
To be continued...